Click here to purchase a land lease. Directions - Take SR92 (American Fork) to SR 144 which turns to FR085.
From there you have three main options.
You could take a left at FR111 (Mary Ellen Gulch) and go about 3/4 of the way up and then hike to the property up on the ridge.
A second option would be to take FS085 further up canyon to where FR007 splits off and goes up Mineral Basin.
A third option that would get closest via road and also to the nearest elevation would be to go up Miller Hill by taking FR085 to FR111 and then making a left on FR596 onto Miller Hill. Drive to approx. 40°32'34.41"N 111°35'41.89"W Turn off.. and then this map should help orient you. Be safe, the road is not maintained and is very rough even for side by sides.
This 4X4 road climbs through aspen and pine forests and ultimately ends very close to the ridge line where the property is.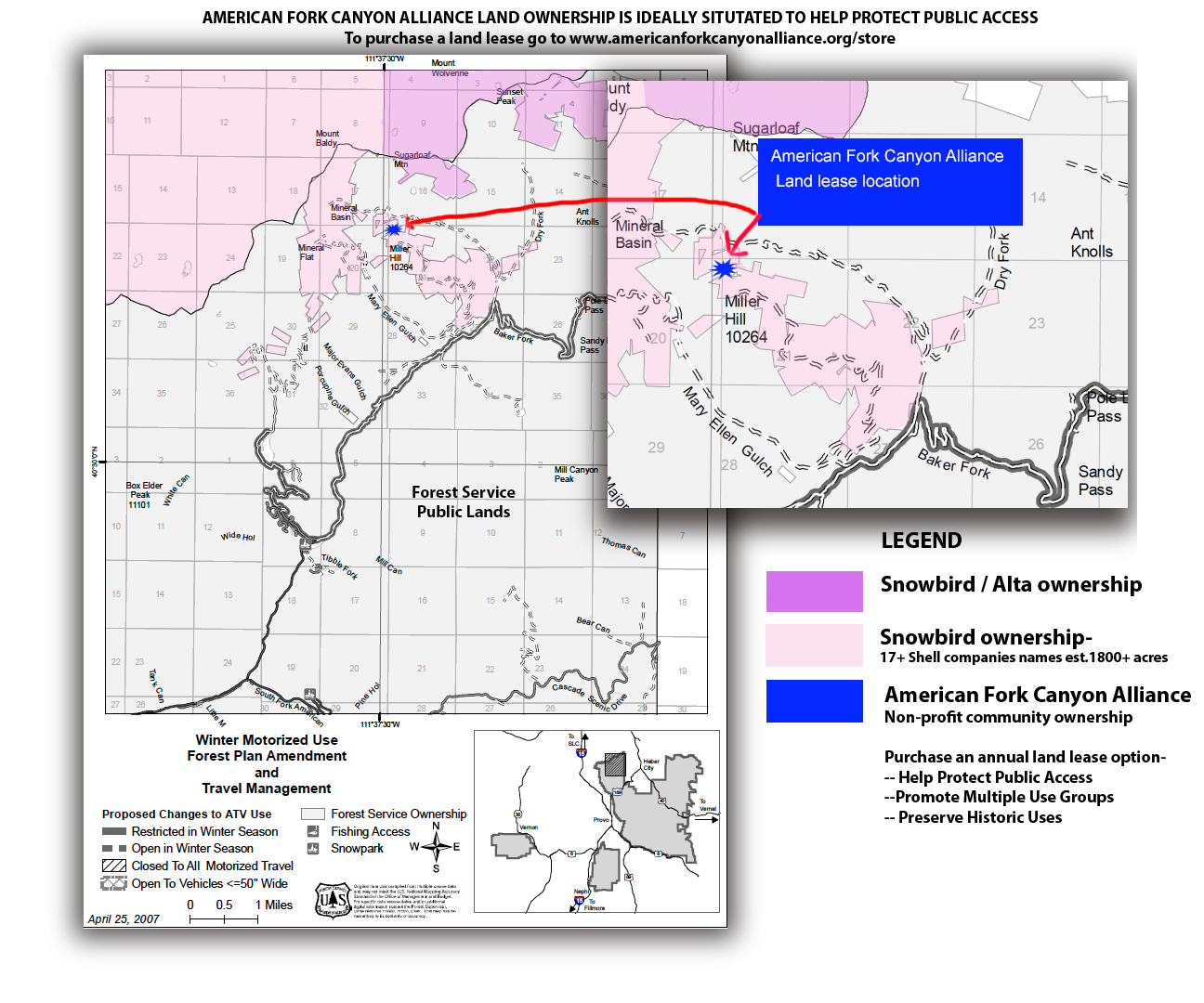 ABOUT
American Fork Canyon Alliance (AFCA) was fortunate to purchase a small piece of land near the top of Miller Hill, right in the middle of land owned by Snowbird Ski Resort. Perhaps the last remaining parcel situated between all their Miller Hill land holdings and the existing resort. To the east of our land is Mineral Basin, to the west- Mary Ellen Gulch, situated at 10,000' with nearly a 360 degree of view. This location is breathtaking, and we feel very fortunate to be able to share it with those who love the canyon.
We have always championed fee free access to pristine places and although our offering is not free, it is low cost to participate in what we believe will be of benefit to the majority. There are three county roads that run in proximity to this wild piece of remote land. To view a map click this link: http://americanforkcanyon.com/property/
Each year we will be offering the public a chance to lease access to our private property, $20 per individual certificate or $50 for a family certificate. For a family of 5, it works out to be about three cents per person per day, to help protect canyon access. We believe this is a tremendous value. For a family of 5 to spend a day skiing it would be close to $500 for a day on the hill. Our efforts to protect these areas from being commercialized is enhanced by having many lease holders to our private land.
Your participation in this effort will show land ownership in American Fork Canyon and will give us another tool and reason to keep Snowbird from blocking our access and locking us out of the upper parts of the canyon.  If Snowbird is successful in their proposed expansion, they have expressed the necessity of blocking access to areas that we have enjoyed for over a hundred years, just as they close access in upper Mineral Basin.
Thank you for helping us to keep development out of American Fork Canyon.  This is a resource that we all enjoy and this enjoyment is in critical jeopardy by a zealous corporation that has overlooked perhaps one of the greatest assets, that being pristine land and be coming a "protector of pristine places". We hope that they will come to see it as such as well as respect our groups private land ownership as well.
We would like to extend an invitation to you to become a land lease owner of American Fork Canyon.  In joining with us you will receive an embossed "Certificate of Ownership" certifying that you are a leaseholder to the acquired property property in American Fork Canyon. Renewals will take place the first of next year, and proceeds will be used to help protect the canyon.
Our team of volunteers will continue to work diligently to Protect and Preserve American Fork Canyon for future generations.
https://www.facebook.com/americanforkcanyonalliance Thank you very much for your support. Please tell a friend about us.
Protect and Preserve American Fork Canyon was started in April 2015 in an effort to learn about proposed land swaps between Snowbird Ski Resort and the Forest Service. Quickly our Facebook page grew to 10,500 concerned households. As our group grew, so did our understanding of the scope of the problems. Recently it became apparent that with the explosive growth of our Facebook group and the tremendous support we created a Utah non-profit -- American Fork Canyon Alliance and have filed for non-profit 501c3 status.
CONTACT
GPS coordinates will be provided after snow has melted and our survey completed.